It's a story we've heard a few too many times – Pacific Island Countries that closed their borders and kept COVID-19 away from their shores finally succumb to the pandemic that has dominated our lives for the past two years.
Earlier this year, the beautiful island nation of Kiribati joined the ranks of those battling COVID outbreaks. Until January 2022, Kiribati had recorded only two COVID cases throughout the entire pandemic – an incredible achievement made possible by both its remote location and a robust public health response.
But unfortunately, when the first international flight in 10 months arrived, it brought with it 36 positive cases which inevitably led to community transmission. Acting quickly, the government declared a state of disaster and the island of South Tarawa went into lockdown.
At BES, we had both a long-standing relationship with Kiribati and tried-and-tested tools to help track COVID outbreaks. When the Ministry of Health and Medical Services requested support from neighbours, we were more than happy to join the deployment team including DFAT, WHO, and SPC to respond to the outbreak.
Testing on arrival
Our greatest tool in this pandemic (from the BES toolbox) is our electronic medical record Tamanu. Designed specifically for remote settings in the Pacific like Kiribati, Tamanu is an offline-first system, with syncing capabilities allowing users to work seamlessly in settings with unreliable internet access. It is easy to use on both mobile and desktop, allowing health workers or anyone managing COVID testing to record patient information in a range of settings, including health clinics, testing centres, hotels, and in the field.
Upon arrival, our very own Project Manager Aislinn Healy got to be on the patient end of the COVID testing functionality for the first time. So here is how the process works: when you're tested, you are given a COVID testing record, lab request ID number, and a QR code to access the result. When the test result is processed through Tamanu (allowing about 24 hours on the lab side), you can follow the link to easily see the result online – saving everyone time waiting on hold to confirm by phone.
Training and building local capacity
Of course, Aislinn wasn't only visiting Kiribati to get her own COVID tests. Armed with tablets to be distributed amongst labs, and laptops on their way, Aislinn worked with the local teams to conduct training on how to enter PCR test results into Tamanu.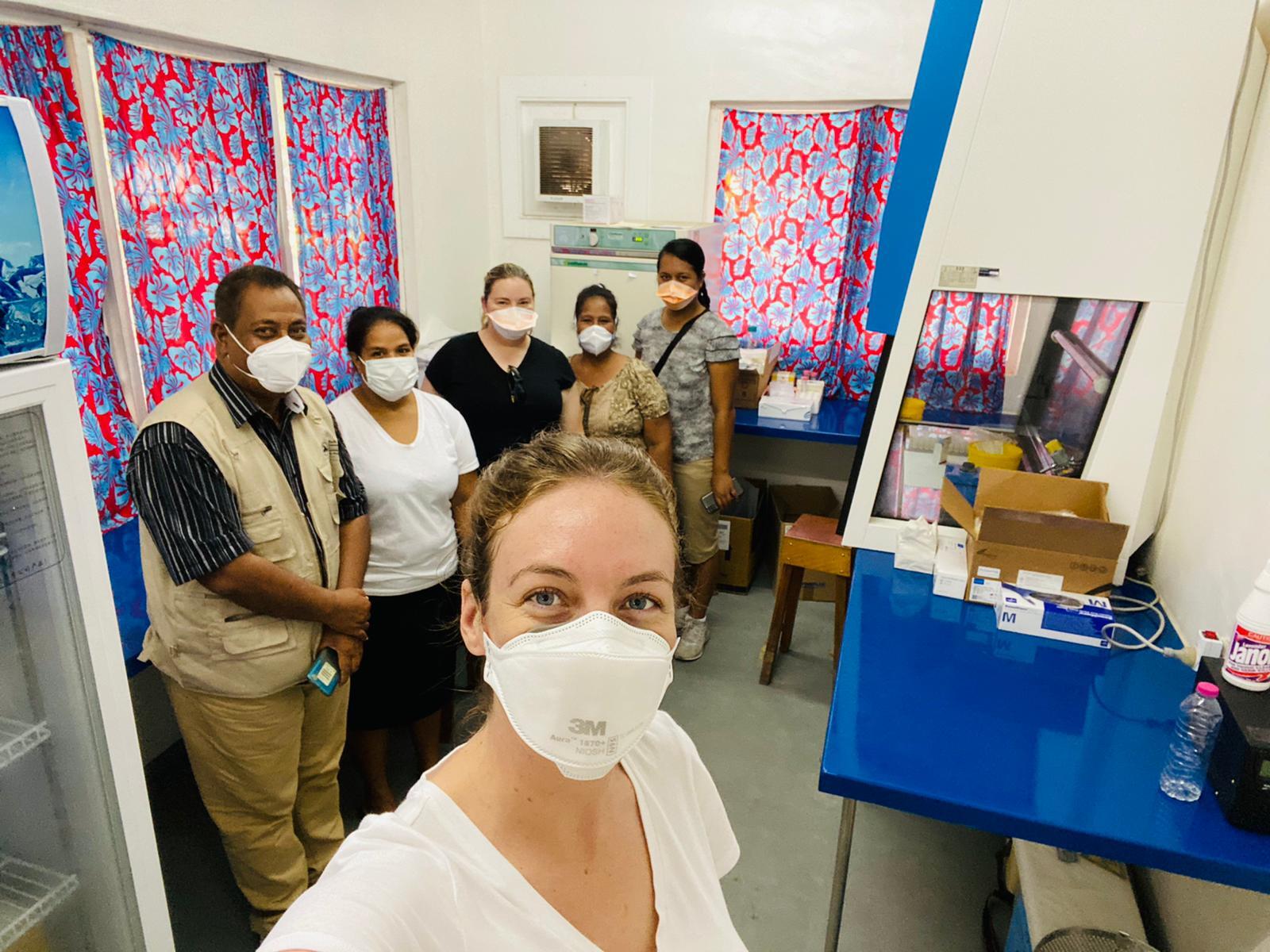 In South Tarawa, the most heavily populated area of Kiribati, PCR tests are being processed at three locations: the lab of the main hospital, a tuberculosis testing lab, and a COVID isolation facility set up in a shipping container donated by New Zealand's MFAT. Kiribati's Health Information Unit also designated a Tamanu officer, who was upskilled in all facets of Tamanu's COVID testing functionality who can troubleshoot issues as they arise and continue training in-country as the rollout continues.
Unfortunately, the impacts of COVID were not limited solely to South Tarawa. To ensure that health clinics in the outer islands were also well-equipped to record tests and monitor outbreaks, Aislinn also travelled further afield to conduct training sessions.
Although getting to North Tarawa isn't as easy as it looks, our team is familiar with the unique travel systems of the Pacific islands. Travelling on boats and wading through the water, tablets safely in bags, they made it to North Tarawa. Here, they trained nursing and health staff to use Tamanu to record rapid tests and results.
Training in the outer islands is really important, as it allows positive case data to be viewed immediately by the Response Team in South Tarawa. This way, they can make planning decisions in response to accurate, real-time data and offer support to any patients who need referral.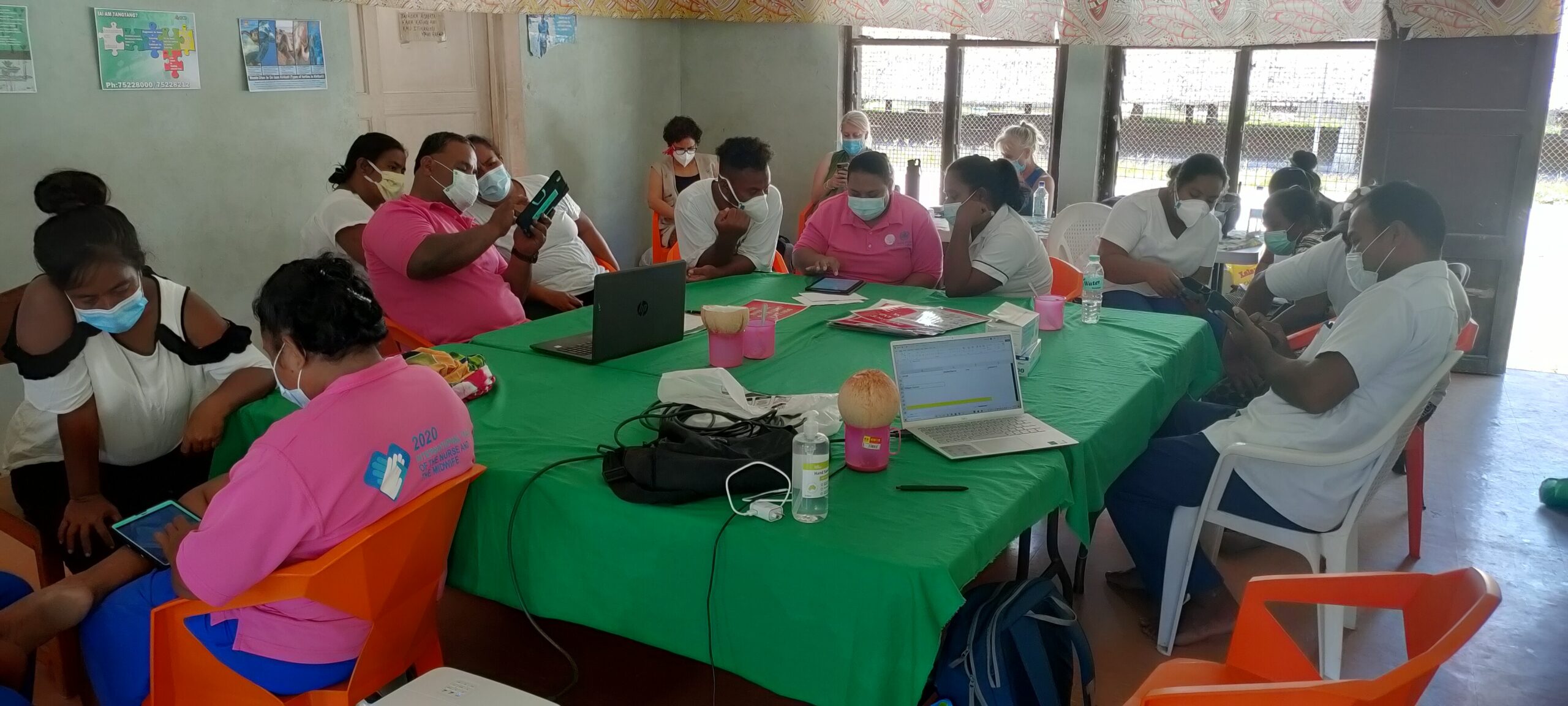 Tracking outbreaks in real-time
In the initial days of the outbreak, the Health Information Unit that provides daily case updates was receiving little to no information from the outer islands. Information coming in from South Tarawa was often a photo of their paper records, sent through an online messaging service, and manually entered into spreadsheets by the Health Information Unit.
Tamanu was able to streamline this process, with data digitally recorded at all COVID testing sites across the country including the main hospital, labs, hotels for new arrivals, and health clinics on outer islands.
Now, that information reaches the Health Information Unit immediately. Not only does that speed up the daily case number updates, but they can now also produce weekly test reports showing analysed data and test positivity rates. These reports make it easier to make informed decisions and direct resources as needed.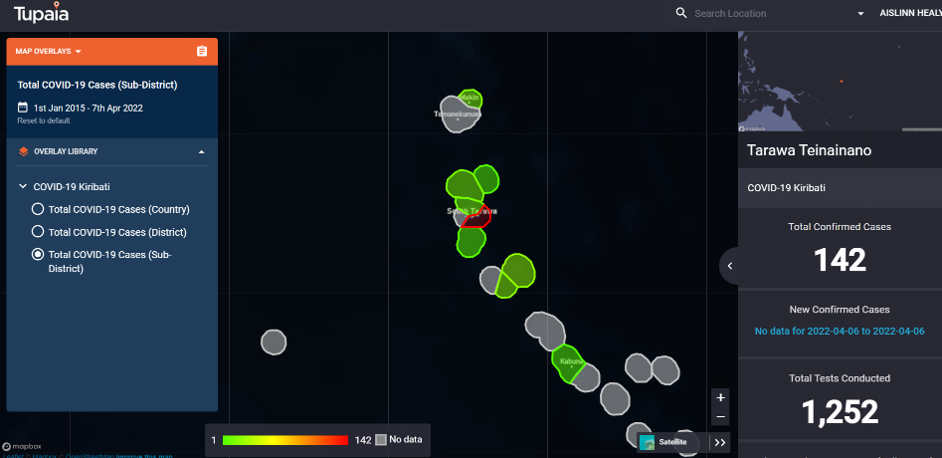 The data from Tamanu also feeds into Tupaia, our data analysis and visualisation platform designed for low-income settings. Like Tamanu, Tupaia is open-source and offline-first, making it perfect for disseminating information in places with inconsistent internet connectivity.
On the live maps, decision-makers can see positive COVID cases broken down by district and sub-district. Colour-coded visuals help them to identify outbreaks as they happen, informing their next interventions and planning to prevent future spread of the virus.
As it stands, Kiribati's first COVID outbreak seems to have been contained. Cases only reached just over 3000, a testament to the rapid and coordinated response by the Ministry of Health. Given the success of Tamanu for tracking COVID-19 patients, we would love to roll out the software to support other patient interactions across the health system – although we hope future COVID outbreaks are few and far between.
To explore the live maps of health systems across the Pacific, visit Tupaia.org
To learn more about Tamanu, our EMR for remote settings, click here