The COVID pandemic is making 2020 a year like no other. As hospital admissions and deaths have increased, countries have responded by increasing medical stockpiles, banning large gatherings of people, closing restaurants and businesses, restricting travel and implementing widespread border closures, preventing all international travel. COVID-19 is having an unprecedented impact on almost all sectors worldwide but most obviously the health sector. COVID-19 has seen health care systems in many countries overwhelmed by presentations, leading all countries to evaluate their preparedness to deal with this pandemic.
The response in the Pacific however has been exceptional. Most Pacific Island Countries moved swiftly to shut-down international travel and in countries such as Fiji, which experienced early cases, the initial response of authorities seems – for now – to have been highly effective in preventing widespread community transmission. Elsewhere, in countries such as Tonga, Samoa, Kiribati, Solomon Islands and Vanuatu, whilst no cases have been detected, the spectre of COVID-19 looms large and preparedness work has been continuing apace. Most countries now have the capacity to undertake laboratory testing for COVD-19 locally – this has been achieved especially with the support of Australia and New Zealand, alongside other donors.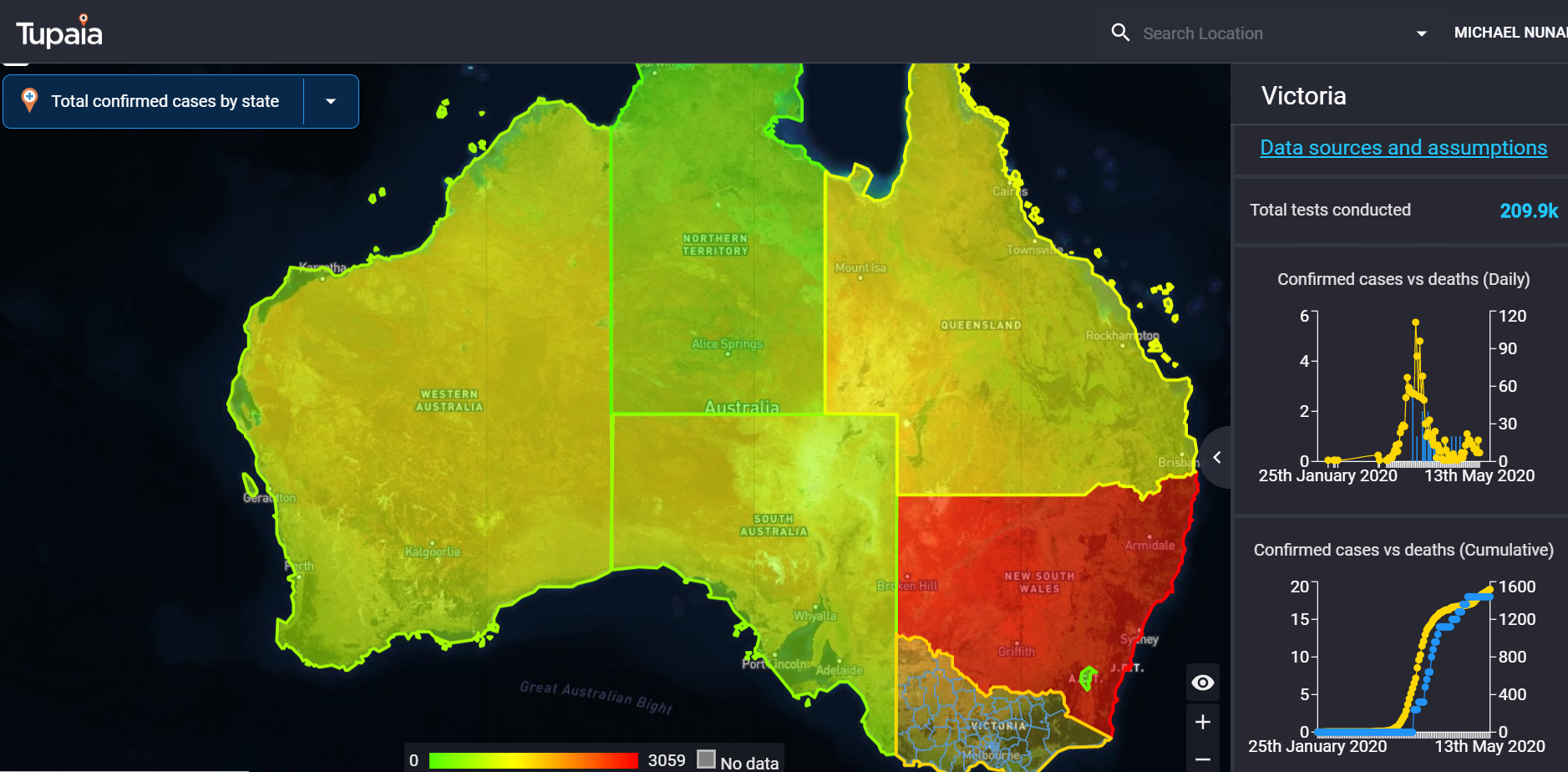 Tupaia is supporting health decision making related to COVID-19 in a number of Pacific Island Countries and elsewhere. Our staff, like everyone else, have been frustrated at our inability to travel and support face-to-face like we would usually be doing but we are providing as much remote support as we possibly can and we'll be back travelling as soon as it is appropriate to do so.
Whilst very busy, our thoughts are also with everyone affected by the current situation, whether people have lost their livelihoods, their loved ones or their own health.
Data visualisations
As a data aggregation and visualisation platform, with the support of DFAT, we have been able to support countries to prepare for the potential onset of a COVID-19 outbreak.  In a demonstration of the data display possibilities, we have also developed a new module in Tupaia to show visualisations of the data related to the COVID-19 outbreak in Australia – these include data on confirmed cases, testing and deaths at the national and state levels.
We are also working with flutracking.net to visualise their crowd-sourced, weekly syndromic surveillance data at the postcode, LGA and state levels – this year, flutracking is also collecting data relating to COVID-19, which may help health authorities spot localised outbreaks more quickly than laboratory testing.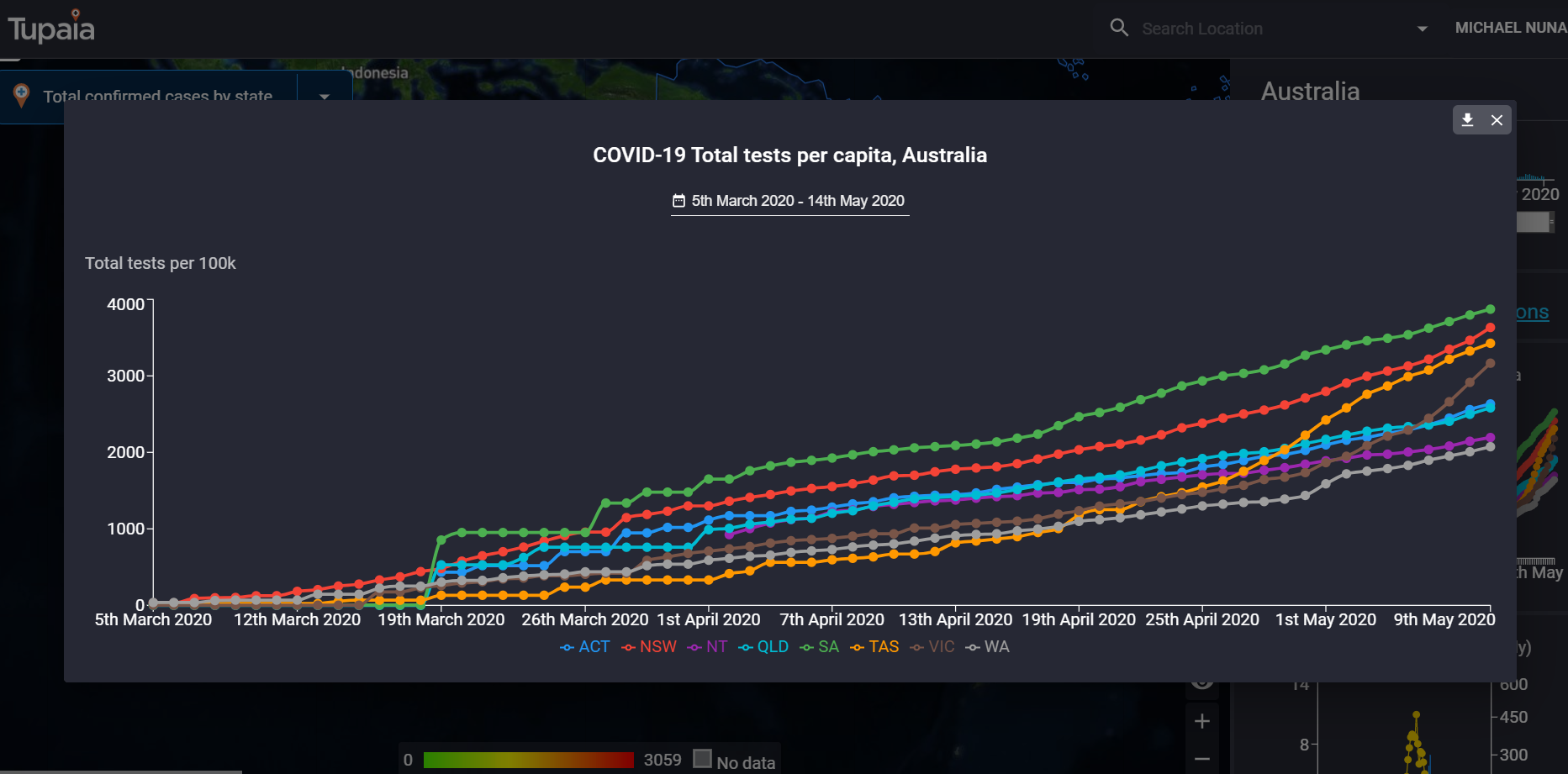 Australian COVID-19 data displays in Tupaia
Tonga
After seeing the data displays implemented in Tupaia for Australia, Tonga requested support to use Tupaia for COVID-19 related data collection and visualisations as part of their readiness planning and response activities. A facility assessment tool was developed and loaded into Tupaia MediTrak allowing Tonga to rapidly implement assessment of all facilities in Tongatapu for COVID-19 readiness. This enabled a quick stocktake of the commodities that would be of use to the facilities in the event that they were faced with COVID-19 cases (e.g. soap, alcohol hand sanitizer, face masks). This allowed facilities that had items out of stock to be prioritised for re-supply and/or allocation of additional essential resources. A picture of the Island group's capacity for ICU admission and isolation admissions could also be mapped by asking facilities how many of each type of bed they have. Plans are currently underway to roll-out the Tupaia facility readiness assessments in the outer islands.
The results are displayed in Tupaia dashboards and map overlays, allowing the Ministry of Health easy access to the data, helping inform decision making around COVID-19 preparedness.

Tonga COVID-19 data displays in Tupaia
Samoa
Samoa have also been working with us on their COVID-19 preparedness needs, developing their own data collection tools for use in Tupaia MediTrak. They have developed surveys to conduct facility assessments, household assessments, clinical surveillance and contact tracing with respect to COVID-19 readiness. We are continuing to work with them to meet their requests for data visualisation support during this time.
Tupaia's contact tracing tool is a basic mechanism allowing health authorities to create Index Cases and survey unlimited 'Contact Cases', linking each back to the original index case. It was designed specifically for the Pacific context and works across all notifiable diseases – we have made adaptations to meet the COVID-19 tracing needs in Samoa and Tonga (though neither have recorded confirmed cases yet).
Laos schools
We have been engaged by the UNICEF country office in Laos to present aggregated data relating to their education system, as part of their role as the education cluster lead – this work allows data capture and visualisation across over 14,000 schools. This work pulls data from multiple education data sources to assist with decision making around the availability of clean water and infection control commodities, quarantine sites and which schools are open and closed during the pandemic.

Sample data visualisations from Laos education sector
General
A suite of surveys have been added to Tupaia MediTrak, which can be used by any country requesting access. If a country would like to proceed with data collection, we can build map overlays and dashboards specifically designed to display the information collected.
Facility assessments and Facility Management System (including both data collection on-site and data aggregation from existing databases)
Suspected COVID-19 cases

Allows countries to document and display the number of suspected cases, to monitor the likely source of cases (e.g. overseas travel), track location of infected patients.
It became necessary to include robust monitoring around suspected cases as countries closed borders it became difficult for them to outsource laboratory support due to a lack of flights to transport samples.

Confirmed COVID-19 cases, including automated epi-curves.
National Health System Readiness Assessment

A high-level assessment of the health system's capacity to test for and respond to a local COVID-19 outbreak.
Pacific Syndromic Surveillance System
With the support of the Indo-Pacific Centre for Health Security and the WHO sub-regional office for the Pacific, we are re-building the Pacific Syndromic Surveillance System to optimise it for the Pacific context. This will allow participating countries to automatically sync national-level surveillance data to the platform and for real-time visualisation of data down to the primary healthcare facility or village level. We are also building tools to allow countries to more easily digitize data collection down at the facility level and enabling data to be more easily routed into national health data warehouses.
Supply Chain Support
With international travel heavily reduced and the shutdown of many manufacturing industries across the world we are also implementing ways to support Pacific Island Countries in anticipation of delays to stock arriving.
Preparing stock for pandemic response is a difficult task, as the tools used for quantification during normal times become inadequate. We have developed a calculator that countries can use to assist in predicting the amount of personal protective equipment (PPE), infection prevention and control (IPC) products, and diagnostics consumables they would need to meet the needs of their country based on the population and size of the health workforce.
We are supporting NZ and Australia in planning their supply chain responses by liaising with countries on medicines and consumables availability, providing fortnightly updates between countries and donors.
Finally, we are building a regional 'emergency commodity' platform in partnership with the mSupply Foundation to track critical commodities across all countries in real-time to help prevent stock-outs.
For any questions about our new capabilities or ability to support COVID-19 programming, please get in touch with us at contact@tupaia.org